The Ultimate Guide to Male Enhancement Pills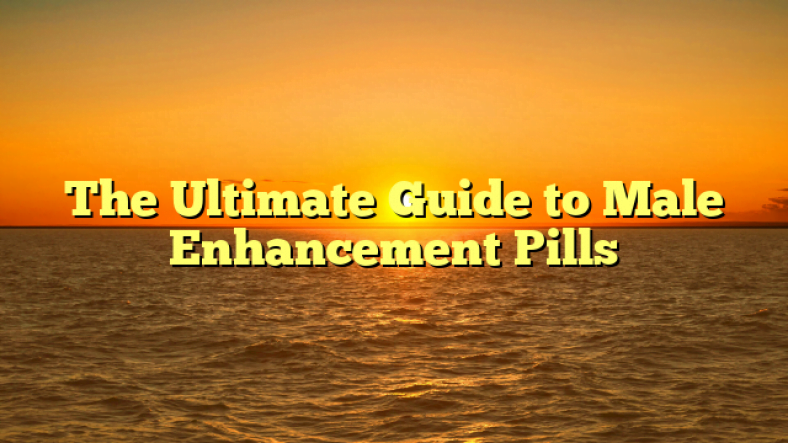 Remember the adolescent lesson that went something like, "if it sounds too good to be true, it probably is." Well, it applies to those eye-catching, ornately packaged male enhancement pills displayed at your local gas station and convenience store.
The FDA doesn't regulate dietary supplements like these, which are typically made in unsanitary factories and contain unknown ingredients. Plus, they don't actually increase your penis size.
What are male enhancement pills?
Male enhancement pills are dietary supplements that claim to enhance sexual performance by increasing blood flow to the penis, boosting testosterone levels, or providing other health benefits. They are usually available in capsules, although some come as chewable gummies or liquid formulas.
While some male enhancement pills may help boost libido and improve sexual performance, other pills are designed to treat specific health conditions, such as erectile dysfunction (ED). Drugs containing PDE5 inhibitors like sildenafil citrate (Viagra) are approved by the Food and Drug Administration to treat ED. These medications are safe to use when prescribed by a doctor, but non-prescription products that promise to treat ED may not be safe and may cause serious side effects.
Other male enhancement pills claim to promote muscle growth by containing ingredients such as creatine and whey protein. Some, such as Elm and Rye's Libido Gummies, also contain plant extracts that have been shown to have aphrodisiac properties. These include horny goat weed and tribulus terrestris. Other male enhancement pills are designed to prevent premature ejaculation by using ingredients such as lidocaine.
Are male enhancement pills safe to use?
Male enhancement supplements are typically safe to take when taken according to the instructions on the label. However, certain supplements may cause side effects. For example, some may interact negatively with medications you already take or contain ingredients that can cause health issues. For this reason, it's important to choose a product that has been tested by experts and contains scientifically-backed ingredients.
Most male enhancement pills are designed to boost testosterone levels in the body, which can help improve libido and sexual performance. They also can help increase muscle growth and improve overall energy levels. Some supplements include plant extracts or herbs that have aphrodisiac properties, such as maca root, horny goat weed, and tribulus terrestris.
Some men who struggle with ED are not only negatively affected by their condition, but they may also have difficulty conceiving a child naturally, since conception requires sexual intercourse and ejaculation. Some people have found that taking a male enhancement pill can help improve libido and enhance sexual satisfaction, which can make it easier for them to conceive a child.
Are male enhancement pills effective?
Many men experience a lack of libido and erectile dysfunction during their sexual experiences. In addition to the effects on their own performance, these issues can interfere with their ability to conceive children (which requires a firm, sustained erection).
Some male enhancement supplements target libido and sex drive and boost orgasms. Others include ingredients such as saw palmetto, yohimbe, horny goat weed, and red ginseng that promote erections of greater length and strength. Some products also help with erectile dysfunction by improving blood flow to the penis.
However, a person should take any male enhancement supplement with a healthy dose of skepticism. Many products sold without a doctor's prescription claim to enhance sexual performance and increase penis size, but research hasn't confirmed these claims. Additionally, some over-the-counter male enhancement pills are unsafe and may contain untested or contaminated ingredients.
Are male enhancement pills safe to buy online?
Men can boost their testosterone levels naturally by exercising regularly, eating a healthy diet, and taking supplements. However, not all male enhancement pills are safe to buy online, and many of them don't clearly list their ingredients or their concentrations. This can lead to negative side effects, especially if you're already taking other medications.
Additionally, some male enhancement pills may contain ingredients that could negatively impact fertility. For example, the FDA has found that many "herbal" male enhancement products contain sildenafil, the same active ingredient used in Viagra. This can cause a severe reduction in fertility, which can have a big impact on a man's life.
While some supplements claim to improve libido, erectile function, and orgasms, they often don't have any scientific support. In contrast, several fast-acting, science-based medications are available to treat erectile dysfunction and premature ejaculation. These can be compared to testosterone boosters, but they are more effective and don't have any negative side effects. They also require a prescription, but they are safe to take as directed. Moreover, they can help with issues like low sex drive and muscle development.
Are male enhancement lotions and creams effective?
Although most men claim that male enhancement pills and creams increase libido and improve erections, there's no scientific evidence that these products physically increase penis size. In addition, many supplements contain ingredients that are potentially dangerous, especially if you have any health conditions.
For example, some male enhancement supplements have unclear concentrations of important ingredients such as sildenafil (the active ingredient in Viagra). Additionally, some supplements contain ingredients that may interact with prescription medications. For these reasons, it's important to look for male enhancement pills that provide clear ingredients lists and are not sold on the internet.
The most effective male enhancement products contain proven ingredients that are safe for use. They also include a high-quality, vegetarian capsule that is easy on the stomach. These products typically have a wide range of positive customer reviews and offer competitive prices. One of the best supplements on the market is Erectin, which contains a blend of natural ingredients that promote sexual wellness. This includes saw palmetto, horny goat weed, ginseng, and tribulus terrestris. You can purchase a bottle of 60 capsules for $60.